Setting up the General Properties:
Inorder to set the general properties -
Click on the "General Properties" button on the tool bar or
Select "Action | General Properties" from the menu bar. Inorder to do this, the JCourier must be in the Stopped state.
When you do any either of the above said action, a dialog box will be opened as shown in the screen shot below.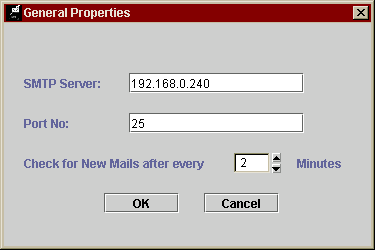 SMTP Server:
In the SMTP Server field, specify the host name or IP address of your out-going mail server. If you don't know much about this, please contact your system administrator.
Port No:
In the Port No field, specify the port number on which your SMTP server is running. The default port number is 25. But, if by any means, if your SMTP server is running on a different port, specify that number.
Ckeck for New Mails:
For Auto-Responding feature JCourier need to periodicallly check all configured Accounts for new arrival of mails. In this field, specify the time-period (in minutes), for the periodic checking.
When you are done with this click on the "OK" button to save the settings you have made. JCourier will use these settings when ever required. If you click on "Cancel" button, the changes you have made will not be saved.